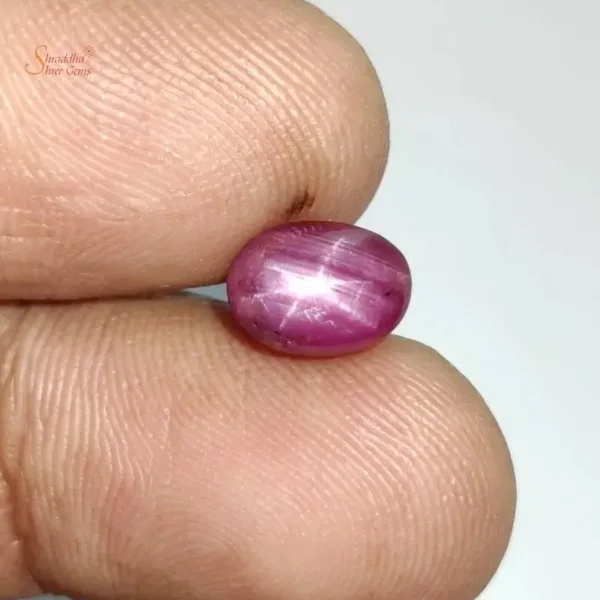 Natural Star Ruby Gemstone – 3.02 Carat
₹5,499.00
~Details
Item Type – Loose Gemstone
Gemstone Name – Star Ruby (Manik)
Gemstone Natural – Yes
Gemstone Certified – Yes
Gemstone Unheated – Yes
Gemstone Untreated – Yes
Gemstone Colour – Red
Gemstone Quality – High
Gemstone Shape – Oval
Gemstone Weight – 3.02 Carat
Cash On Delivery – Available
Free Shipping Available – All Over India
Shipping – In India (6 to 10 days) and Across From India (10 to 15 days)
Description
Natural Star Ruby Gemstone – 3.02 Carat
Star ruby gemstone is a type of ruby that displays a phenomenon known as asterism, which creates a star-like pattern of light on the surface of the stone when it is viewed under direct light. This effect is caused by the presence of tiny, needle-like inclusions within the ruby that reflect light in a way that creates a star-like shape. We have been selling all types of gemstones since 2012. We only deal in natural and certified gemstones. A free lab certificate will come with this gemstone from the reputed lab.
Can I make custom jewelry?
Yes, We would like to make Custom Jewellery As per your Requirement. If you have any custom size, weight, measurement, materials, and other designs then Contact us right now we will make it for you.
Shipping and Delivery.
If you are from India then we will deliver our products in 5 to 10 Days. If you are from another country then we will deliver our products in 10 to 15 days.
Return Policy.
If you want to return any product then first read our return policy.
Only logged in customers who have purchased this product may leave a review.