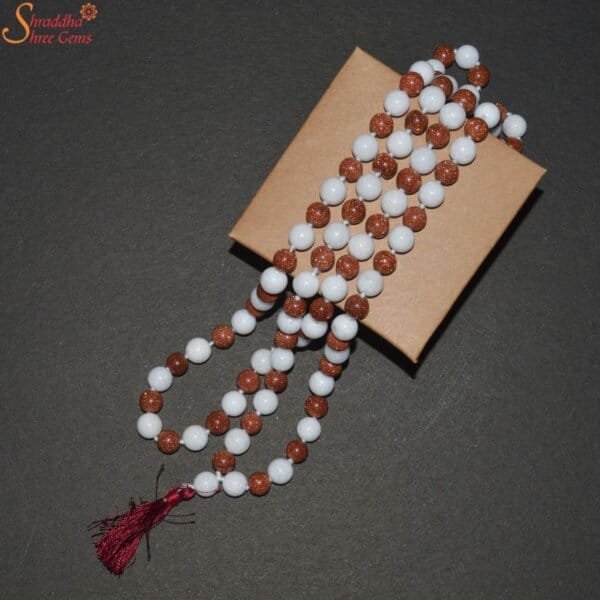 Natural Sunstar And Moonstone Beads Mala, Round Beads Necklace
₹1,458.00 – ₹1,658.00
Beads Name – Sunstar And Moonstone
Beads Natural – Yes
Beads Certified – Yes
Beads Size – 8 to 10 MM
Sunstar Beads Colour – Red
Moonstone Beads Colour – White
Beads Quantity In Mala – 108+1
Shipping – In India (6 to 10 days), Outside of India (10 to 15 days)
Description
Natural Sunstar And Moonstone Beads Mala
Sunstar Gemstone:- This sunstone mala was made with very high-quality sunstone-faceted beads. Sunstone is known as a stone of leadership and evokes this quality in its wearers. Sunstone is believed to ease stress and anxiety, increase vitality, encourage independence and originality, as well as warm the heart, and bring good luck.
Moonstone Gemstone:- This stone is believed to be a symbol of new beginnings. Moonstone is an important stone for inner growth and strength. It can stabilize your emotions into calm oceans that you can feel at dawn. Moonstone opens up the heart and allows one to feel more in touch with their inner feelings.
Shipping and Delivery.
If you are from India then we will deliver our products in 5 to 10 Days. If you are from another country then we will deliver our products in 10 to 15 days.
Return Policy.
If you want to return any product then first read our return policy.
Additional information
| | |
| --- | --- |
| Beads Size | 6 MM, 8 MM, 10 MM |
Only logged in customers who have purchased this product may leave a review.